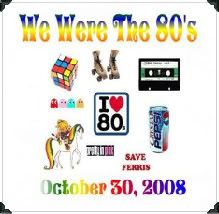 So, Where Are My Angels is hosting We Were the 80s Day tomorrow, and I want to play! However, I'm going to be busy at Kiddo's elementary school Fall Fun House, so I'm starting a little bit early. (I know I could post-date this post, but I want to get my link into her Mr. Linky, and I don't think I can do that ahead of time. Besides, maybe this will spread the word and encourage some other of you out there to participate!)

Now, the rules are to post photos and talk about things we either miss or remember from the 80s. Well, I was in junior high and high school during the 80s (class of '89 - holla! Yeah, it *is* my twentieth reunion coming up in May....shhhh!) so I am

all about

the 80s.

I thought I'd start out by sharing my most treasured memento of the decade:



It's mighty old, but I think you can make out the wording. Yes, that is my actual ticket stub for my first ever pop/rock concert, and that concert was none other than the kings of the 80s pop music scene: Duran Duran, and at Madison Square Garden no less! You'll note we were in the 25th row. That was on the floor, in the center. 25 rows back from the man I was going to marry. You remember him, don't you?



Yep, I was going to be Mrs. John Taylor. Mmm-hmm. Oh, what a fantastic show that was... I confess, I have a Duran Duran playlist on my iPod even now!

(Even if I've come to my senses as an adult and have replaced John Taylor as my dreamy crush with the much more appealing George Clooney - erm, I mean my Hubby. Yes, Hubby, the love of my life, *that* is who I meant, the man I actually married and all....)



While I was a faithful fan of the Fab Five, I also adored many other artists who were big in the 80s. a-ha, Culture Club, Madness (okay, they weren't really that big here in the US, but still, I loved them), Tears for Fears, Howard Jones, Huey Lewis and the News, the Cars, I could go on and on and on - all of them take up space on my very 2000s iPod, which certainly takes up a lot less room than my record album collection used to back in the 80s... Two of my biggest loves, though (and also still to this day) were David Bowie and Billy Joel. I won't scan in all of my ticket stubs from their concerts - and I do still have them all! - because there are way too many, but I will show you this fantabulous picture of me, circa 1989, rocking one of my other favorite 80s items:



Ah, the concert t-shirt. Was there anything better? I never spent my concert-going money on the souvenir programs, but I *always* got a t-shirt. Now that was back in the 80s when you could get a good shirt for less than $15. Last time I saw Billy Joel (at the Carrier Dome a few years ago), the cheapest decent shirt was $35. That's a wee bit nuts, y'all. (
I've still got most, if not all, of the concert t-shirts I acquired during the 80s - and 90s for that matter - but alas, they were purchased for a much more slender, less well endowed me, so in the drawer they remain unless my latest gym regime actually performs major miracles... Maybe Kiddo will want to wear them when she's a little bit older. I mean, by the time she's a tween/teen, they'll definitely qualify as

vintage

!)

Now, my parents never had cable TV when I was growing up (indeed, they didn't have anything beyond broadcast television with the good ole antenna-rabbit ears combo until the early 00s!), so I was utterly deprived of MTV. The horror, the tragedy! I would soak up as much MTV viewing as I could whenever I was at a more fortunate friend's house, and would rent music videos from the local video store, you know, actual videotapes of videos or concerts...

Those are two of my biggest memories of the 80s - the music and MTV. Bigger than the hair (which was large - and I was a Jersey Girl, so that added extra volume to the mix too), bigger than the fashions, it was the music. Even the great 80s movies, like Pretty in Pink and Breakfast Club, tied into the music. Come on now, who can hear a snippet of If You Leave and not instantly think of Andie and Duckie (and stupid Blaine - how could she have ditched Duckie for blah, boring Blaine?!) at the prom?



Okay, so I guess another favorite part of the 80s for me would be the movies, too. The Brat Pack films.... Ferris Bueller... Batman (with Jack Nicholson as the Joker)... When Harry Met Sally... The Princess Bride... Say Anything

(thanks for the reminder, Smoochiefrog!!)

... Even that classic holiday must-see, A Christmas Story, premiered in the 80s! I spent a lot of my free time in the movie theater back in the 80s, that's for sure! (Of course, that was back when a ticket cost well under $5!)

I suppose no self-respecting Child of the 80s could post about the 80s without sharing the quintessential high school experience: prom pictures. I mean, we all know how much fashion ROCKED in the 80s, right? Right? So, here you go, me at the junior and senior prom (I've cropped out my dates, because I'm not sure I'd be entirely thrilled to find old pictures of myself posted on the internet without my knowledge....):



Above is from right before my junior prom in May, 1988 - the first formal I ever attended. Unfortunately, it wound up being the night before my grandfather's funeral. He had dropped dead of a heart attack (unexpectedly, as well - I mean, he hadn't been ill or anything) and not only was he the first of my grandparents to die, but I was singing at his funeral service. Made for a less than stellar prom experience all around, I must say. I do remember spending a few good chunks of the evening crying in the bathroom at the hotel. Also, and prior to my grandfather's untimely death, I was pissed off at my mother for not letting me get the dress that I really, really wanted to get. It was red, which was (and is) my favorite color. Mom said it looked like, and I quote, "a streetwalker" and this pink dress was the compromise, which my mom deemed appropriate for a young lady. Secretly, I felt a bit Gone With the Windian in it, what with the full, crinolined skirt and poufy, off-the-shoulder bits.



And senior prom. 1989, baby! I searched everywhere for a better shot of this dress, because it was a thing to behold. A true 80s fashion. You see, it was what they call "intermission length" which meant it came just to my knees in the front but then tapered down to my lower calves in the back. It also had some "pouf" to it, and I'm sorry you're missing that part of the dress. You also are missing the white stockings and black, 3 inch heels I wore with it (despite being the same height as my prom date when barefoot - I towered over him ala Mr. and Mrs. Cruise...). Yeah, I took the white and black theme of the dress a wee bit far... At least you *can* see the sleeves - aren't they phenomenal? I looooved them. I wonder if my parents still have this dress in their attic...? I know I came across the pink one years later (which still smelled of the Polo cologne my date had rather liberally applied to himself that night) but I don't know what happened to this one. (Note to Lylah, in whose room this picture was taken: do you happen to have any pictures from this prom? Like one of me in the whole dress? You wouldn't believe the pictures I dug up while looking for stuff for this post - I could keep my scanner busy for days! Alas, none of the whole dress, though!)

Okay, I'm going to leave you with one more picture of something I remember from the 80s. Now technically, this wasn't a universal 80s experience, but watch, I can make it relevant to the wider, nostalgic world:



This is me from August 1988, with my Grand Champion ewe at the NJ State Fair. How on Earth is this relevant to the 80s for more than just because it happened then? Kindly notice my jeans, specifically the bottom of them. Yes, I pegged my jeans, even for 4-H. I was *that* stylin' dontcha know! We had a dress code for 4-H that I consistently pushed during high school wherever I could. And nobody, no how, was going to tell me I couldn't peg my jeans! (Nowadays, I'm all about the boot cut jeans. Much more forgiving on my less-than-stick-like legs!)

Okay, I shall leave you awash in 80s nostalgia with this:



So now, 'fess up - which member of Duran Duran or the Brat Pack were *you* going to marry?